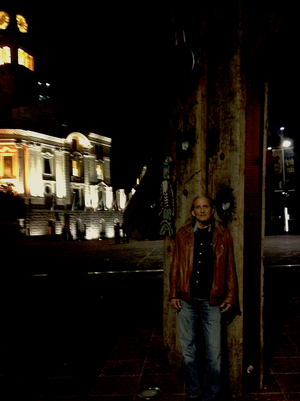 Bio
Jimmie Dale Gilmore has been writing and playing songs for more than 50 years. His music eludes categorization, blending elements of folk, rock, country, blues and bluegrass. His recordings have earned three Grammy nominations in both Contemporary Folk and Traditional Folk categories and he was named Country Artist of the Year three years running by Rolling Stone Magazine. His high and lonesome vocal style, coupled with sometimes mystical and poetic lyrics, has led to musical brandings such as Sagebrush Soul, Zen Country and Western Beat. Along with Joe Ely and Butch Hancock, Gilmore's legendary band The Flatlanders has been credited as fathers of the Alt-country movement. 
Born in Amarillo, Gilmore's musical roots began in Tulia, a small West Texas town where his father played lead guitar in a country band. When Gilmore was in grade school the family moved to Lubbock, known for being the starting point for a surprising number of musicians (including Buddy Holly, Waylon Jennings, and Gilmore's long-time friends Butch Hancock, Terry Allen and Joe Ely). Gilmore met Hancock when they were both 12, and they have been friends and frequent musical collaborators ever since. Gilmore later met Allen, who he says inspired him to write his own songs. His friend Joe Ely introduced him to the music of Townes Van Zandt, and a few years later Gilmore, Ely and Hancock formed the Flatlanders. The group recorded its first album in Nashville in 1972. Defying categorization turns out not to be the way to start out in Nashville, so the album was released only on 8-track and not promoted. The band went their different ways by the end of that year. 
Gilmore joined an Ashram in New Orleans then moved to Denver, worked as janitor in a synagogue, and did not record another album for 16 years. In 1980, Gilmore returned to Austin, where he began playing regular gigs in local clubs. Finally, in 1988, Gilmore released his debut solo album, Fair and Square, produced by Joe Ely on HighTone Records, followed by his 1989 self-titled album, produced by Lloyd Maines. Gilmore was soon signed to Elektra Nonesuch, which released After Awhile, produced by Stephen Bruton, in 1991 as part of the label's American Explorer series. Once again, Nashville showed little interest in Gilmore's brand of country music, but he earned the praise of many critics. He recorded two more Grammy-nominated Elektra albums, Spinning Around the Sun, produced by Emory Gordy, and Braver Newer World, produced by T-Bone Burnett. Gilmore has released two solo albums on the Rounder label, One Endless Night, produced by Buddy Miller, and another grammy-nominated album Come on Back, produced by Joe Ely and honoring the memory of his father, Brian Gilmore. In 2011, Gilmore recorded Heirloom Music, an album of "old-timey" songs in collaboration with the founder of San Francisco's Hardly Strictly Bluegrass Festival, Warren Hellman. 
Meanwhile, the Flatlanders 1972 album garnered significant critical praise and was re-released in 1990 by Rounder records under the title "More a Legend than A Band". Since their reunion album, Now Again, in 2002 the Flatlanders continue to re-form for song collabaration, tours and albums whenever schedules allow. 
These days, Jimmie is still touring, singing and playing music, oftentimes with one or more of the big, beautiful, musical community he feels fortunate to be part of.  In 2018, he'll be playing with Dave Alvin, Colin Gilmore, Butch Hancock and Joe Ely (the Flatlanders), Carrie Rodriguez, Ruthie Foster (the Texas Troubadours), Bill Kirchen, Marty Muse (Highway 71), Christine Albert, Chris Gage, and others.  He also enjoys leading songwriting workshops, writing songs and occasionally and randomly appearing in movies such as the Big Lebowski, Parkland and The Thing Called Love.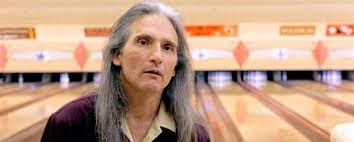 "

[Jimmie Dale Gilmore's] voice would make even Hank Williams cry,"
— Nicholas Dawidoff - New York Times Magazine
"

Jimmie Dale Gilmore's train of thought makes all the stops."
"

[Jimmie Dale Gilmore] is a missing link between Roy Orbison and Buddy Holly, a high-plains drifter evoking a primal sense of wonder that can seem almost childlike."